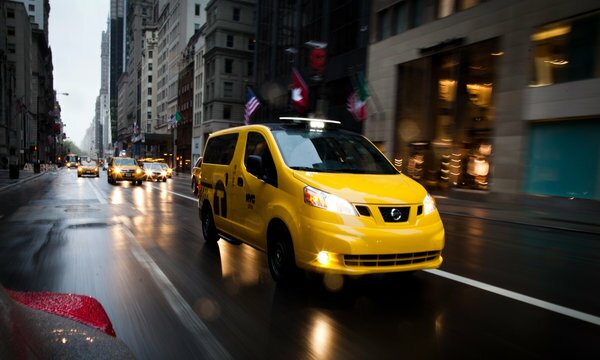 The days of the Crown Vic Yellow Cab are coming to end. Last year Nissan won the Taxi of Tomorrow contest, giving it a 10-year contract worth around $1 billion to provide NYC with a new fleet of taxis.  Now, New Yorkers are going to have their first opportunity to see the taxi of the future, today.
At the New York Auto Show the taxi will be on display.  With its distinctive look (which some New Yorkers, including the Mayor, are already calling 'Suburban'), new yellow color, totally redesigned interior, and glass ceiling, New Yorkers will have an entirely new taxi experience come end of 2013 when the first cars get delivered.
NYC's taxi fleet has a history of being innovative.  The first taxis began service in 1897 and before the turn-of-the-century the city had 1,000 electric taxis in service.  Imagine all the gas savings had we stayed on that path!
In the years since we've seen the Checker Taxi, hybrids, some SUV's and of course the ubiquitous Crown Victoria.
According to the , NYC taxis take almost as much a beating as cars on the roads of developing nations.  That's not saying much for the state of our infrastructure.  But give the city credit, by overhauling the fleet, NYC is modernizing a very important mode of transportation.  Now if only the same could be said for our subways and buses.
What do you think of the new taxi design?