Today, Rubicon Property is announcing our "Get Dirty" social media campaign to kick off our involvement in World Water Day.  Since 1993, the UN has established this date as a day of action and information on the global clean water crisis.
Everyday we come into contact with clean water.  When the faucet turns on, it runs.  When needed for purchase, it's available.  We even use it to clean our streets. No wonder we take it for granted.  But what if, instead of seeing a clean bottle of water on a desk, or clean glass on a dinning room table – what if we saw something else.
What if we saw dirty water?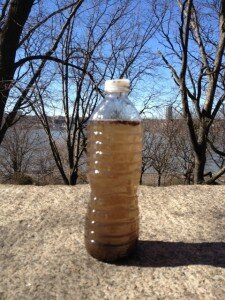 Our firm believes that would change perceptions on clean water.  We think, if people stopped taking it for granted they would have a greater sense for the global clean water crisis.
So we've got a plan, but to pull this off we're going to need your help.  Here's the deal.
Step 1: Take a Picture.  We are asking everyone to take a picture of dirty water in a place you would not expect to see it.  Think about locations you typically find clean water (which is everywhere), but now substitute in a dirty glass of water.  The locations for photos are limitless.  Just to spark some ideas: your bathroom, your doctors office, on a plane, in a museum, on a beach, in a park, at a sporting event.  Be creative, as there are thousands of other examples that can work really well.  Feel free to pose in the picture or have friends or pets join you.  For every picture you upload (and properly tag) Rubicon Property will donate $1 to our . We'll be doing this for the first 5,000 images that are uploaded.
Step 2: Share it on social media. We have created a few tools to make this really easy.  We want a global audience to experience your photograph. We'll be using multiple platforms for you to upload images, but all images will be posted to our Pinterest "Get Dirty" board.  The most popular pictures will be displayed on World Water Day (March 22nd) at the opening of our new store in NYC, at 451 Columbus Avenue! Here are the social media sharing instructions:
Twitter/Tumblr/Instagram/flickr: Upload the image using the hashtag #RubiconWWD
Facebook: Upload the image to Rubicon Property Facebook page.
For those who want to do it the old fashioned way, you can email your photograph to: .
Step 3: Become part of the conversation.  Check out what your fellow participants have created.  All images will appear on our "Get Dirty" Pinterest Board.
Get Dirty Tips: Since we are fortunate enough live in a part of the world that has an abundance of clean water, you've got to dirty the water yourself.  There are several ingredients you can add, including: dirt, coffee, tea, splash of soda, root beer, and sand.
Let's go Get Dirty!